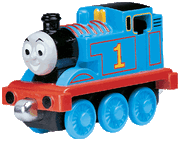 Thomas is the main character in the TV series. He is a blue tank engine who is sometimes cheeky. In the very first episode, he was cheeky to Gordon. But Gordon teached him a lesson by leaving before Thomas could be uncoupled. He is often very helpful to everyone, including his arch-enemy, Diesel. His best friend is Percy, whom he shares the mail train with. His other best friend is James. But he is king to almost all engines. He has two coaches, Annie and Clarabel, which he was rewarded with after he helped James after his accident. He is the second smallest standard gauge engine, after Percy.
Take Along and Take n Play Models
Edit
Thomas was the First Take Along model released in 2002. His stripes on his boiler are 3D, but aren't supposed to. He was also the First Take n Play model, first displayed in 2009 and released a year later.
Appearances
Edit
Specials:
He will also be appearing in the upcoming WWII movie estimated for a 2014 release.
Thomas is based on a Billington E2 class 0-6-0
Take Along and Take n Play Editions
Edit
Metallic
Motorized
Planitum
60th and 65th Anniversery Editions
Thomas and the Jet Engine
Thomas Comes to Breakfast
Thomas has so many editions that they cannot all be named on this page
Other Merchandise
Edit
ERTL (discontinued)
Wooden Railway
Tomy Trackmaster
Brio (discontinued)
Honrby
Bachman
Marklin (German Hornby)
My First Thomas
Lionel
Di Agostini
Bandai Tecs
My Thomas Library
Around Town with Thomas
Bathtub Squirters
Pez
Wind Up
Ad blocker interference detected!
Wikia is a free-to-use site that makes money from advertising. We have a modified experience for viewers using ad blockers

Wikia is not accessible if you've made further modifications. Remove the custom ad blocker rule(s) and the page will load as expected.