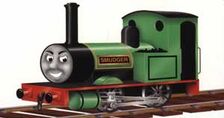 Smudger was a showoff who was turned into a generator. He lived on the Mid Sodor Railway with Duke, who told Stuart and Falcon about him. Nothing else is known about this green engine.
Take n Play Model
Edit
Smudger has not been released as a take n play model, Since he only appeared once and may likely never appear again, he may never get a model. There is a small chance though, due to his popularity.
Smudger is based on Dolgoch, like Rheneas.
Appearances
Edit
Smudger only appeared in the Season 4 episode, Granpuff.
"Listen Dukie! Who worries about a few spills?" (Apart from laughing, that is is only line) Grandpuff
Other Merchandise
Edit
ERTL(discontinued)
Wooden Railway
TrackMaster (possibly coming soon)

Ad blocker interference detected!
Wikia is a free-to-use site that makes money from advertising. We have a modified experience for viewers using ad blockers

Wikia is not accessible if you've made further modifications. Remove the custom ad blocker rule(s) and the page will load as expected.